Eve of Canada's 150th birthday is almost upon us so here we look at Canadian Immigration History #Canada150 through these past years and how it reflect on present day Canada.
The arrival of immigrants for the purpose of resettlement is central to Canadian history, from the Aboriginal peoples, whose ancestors migrated across the Bering Strait from Asia, to the most recent arrivals today. Canada is a diverse nation with many colors, built on immigrants from different countries.
Very first record of Immigration
On July 3, 1608, Samuel de Champlain dodged passport control and a rigorous search of his three-masted vessel to plant a Fleur-de-lis flag near what is now Place Royale in Quebec City to claim the land for France. He wasn't the first European to arrive in the New World, but he did establish one of the oldest continuous settlements in Canada. Champlain and his crew are among Canada's first European immigrants.
This is explained with detail in Discover Canada under Chapter "History of Canada"
Throughout the 17th and much of the 18th century, European colonial administrations, charged with overseeing what would become Canada, did not consider settlement a priority. Canada was viewed by Europeans as a barren land. However, policy eventually changed and colonial authorities carefully and slowly encouraged settlement in Canada. It was their hope that settlers would guarantee the sovereignty of colonial land claims, Christianize Aboriginal peoples and exploit natural resources often on behalf of European investors.
In 19th century the concept of world toward Canadian Immigration changed a lot. In 1869, Canada purchased Rupert's Land, roughly 40% of Canada's current land mass, from the Hudson's Bay Co. for $1.5 million. In the years that followed more land was purchased and added to Canada. After Canada was officially formed in 1867, many immigrants primarily from Britain came to settle in the growing Canada (which had a population of just 3.5 million at the time). Many Chinese migrants were brought over to help build the Canadian Pacific Railway that connected the two coasts of Canada by 1885; they were, however, subject to discrimination and worked in dangerous conditions.

Then came record numbers of immigrants in the early 1900s to help settle Western Canada — the highest intake reaching more than 400,000 in 1913. As Canada became a more progressive and modern society, more and more immigrants from countries such as Russia, Ukraine, Poland, Germany, Sweden and Norway came for new opportunities and a new life.
Turning point in Canadian Immigration
During first world war and second world war the number of immigrants dropped significantly. According to Canadian Archive records, the number recorded in 1915 was 34,000. However after Second world war the picture improved a lot. Canada welcomed a huge number of refugees. Individuals made homeless by the war or who, at war's end, found themselves outside of their country of citizenship. Among the displaced persons were Jewish Holocaust survivors who had no community or family to which they could return. Other displaced persons refused repatriation back to countries which had fallen under Soviet domination. 48,000 British war brides (along with 22,000 offspring) arrived, as do many southern Europeans, including Italians and Greeks, and eastern Europeans.
In 1962, Canada virtually eliminated racial policies that favour one type of immigrant over another — provided they had employment or the means to support themselves until they found a job — regardless of colour, race or national origin.
Five years fast forward, Canada introduced a rating system for potential new immigrants that awards points based on age, education, fluency in English or French and demand in Canada for specific work qualifications. A variation of this system remains the primary basis for permanent entry into Canada today.
Since the early 1990s, the number of immigrants has remained at around 235,000 per year, with source countries including China, India, Philippines, Pakistan and Iran.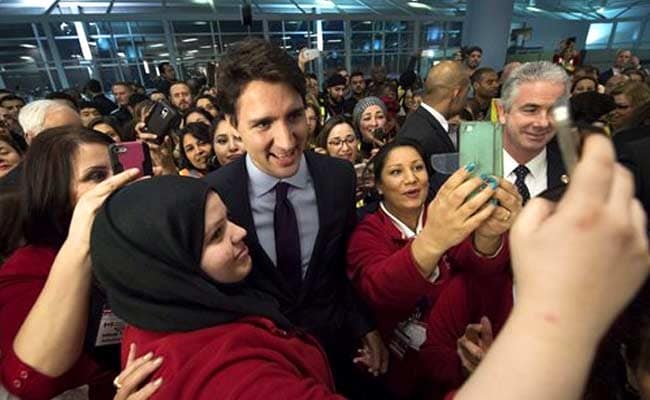 Immigration Today
As a direct consequence of the events of 11 September 2001, the terrorist threat, and security issues, Canada has tightened its immigration policy. In June 2002, the Immigration and Refugee Protection Act (IRPA) was passed. It placed restrictions on the admission of specific classes of less wealthy immigrants, required higher qualifications, and changed employment requirements in order to give preference to multi-skilled workers in an ever-changing labour market.Replacing the 1976 Immigration Act, the new legislation expanded the authorities' powers to arrest, detain and deport permanent residents suspected of engaging in activities that threatened public security. In addition, the Canadian government introduced tougher requirements for refugees.
Canada is recognized as one of the most open immigration countries in the world. Since 2001, the number of newcomers has averaged between 220,000 and 260,000 a year. According to the 2011 National Household Survey (NHS), approximately 6,775,800 inhabitants were born outside the country. This equates to 1 person in 5, or 20.6 per cent of the total population of Canada. In addition, Canada boasts the highest proportion of foreign-born inhabitants of all the countries in the G8, outstripping Germany and the US, which recorded 2010 percentages of 13 per cent and 12.9 per cent respectively.
Here are some numbers giving you glimpse into Canadian diverse Immigrant Culture.
Immigrants by source country
| | |
| --- | --- |
| Philippines | 50,846 |
| India | 39,530 |
| China | 19,533 |
| Iran | 11,669 |
| Pakistan | 11,330 |
| Syria | 9,853 |
| United States of America | 7,522 |
| France | 5,807 |
| United Kingdom Colonies | 5,451 |
| Nigeria | 4,133 |
| Republic of Korea | 4,091 |
| Iraq | 3,980 |
| Egypt | 3,763 |
| Jamaica | 3,426 |
| Bangladesh | 3,304 |
| Mexico | 3,231 |
| Algeria | 2,835 |
| Morocco | 2,736 |
| Haiti | 2,727 |
| Vietnam | 2,591 |
Refugee origins
The resettlement of 46,700 refugees — including both privately and government-sponsored refugees — in 2016 marks a record for Canada since 1978, according to the Office of the United Nations High Commissioner for Refugees. The top five refugee countries of origin in 2016 were:
Syria: 33,266
Eritrea: 3,934
Iraq: 1,650
Congo: 1,644
Afghanistan: 1,354
Top 10 mother tongues of permanent residents (2015)
| | |
| --- | --- |
| 1. Tagalog | 15% |
| 2. English | 9.3% |
| 3. Arabic | 6.3% |
| 4. Punjabi | 6.1% |
| 5. Chinese | 4.9% |
| 6. French | 4.1% |
| 7. Spanish | 4.1% |
| 8. Urdu | 3.8% |
| 9. Hindi | 2.9% |
| 10. Farsi | 2.7% |
(Source: Historica Canada, Wikipedia, Canadian Immigrants)