Here is latest Express Entry Invitation Update. This following table displays all the draws, invitation issued to date, minimum CRS for each draw and the program it specified.
You can book mark this page. We will be updating this table and graph as we progress through Express Entry draws and more information is made available.
Express Entry draws will either be:
general, in which case candidates eligible for any federal economic immigration program may be selected based solely on their CRS score; or
program-specific, in which case the government of Canada will select candidates for just one of the federal economic immgration programs.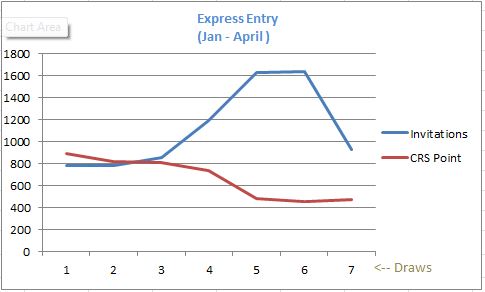 Express Entry quick facts, from January 1 to April 11 (All dates are for 2015)
Launch date: January 1
First draw from the pool: January 31
Most recent draw from the pool: April 10
Minimum CRS points required for selection in any one draw: 453 (March 27 draw)
Largest number of invitations to apply issued in any one draw: 1,637 (March 27 draw)
Fewest invitations to apply issued in any one draw: 779 (January 1 and February 7 draws)
Largest decrease in CRS points required between two consecutive draws: 254 (from February 27 to March 20 draws)
Smallest decrease in CRS points required between two consecutive draws: 10 (from February 7 to February 20 draws)
Largest increase in CRS points required between two consecutive draws: 16 (from March 27 to April 10 draws)
Longest gap between two consecutive draws: 21 days (from February 27 to March 20 draws)
Shortest gap between two consecutive draws: 7 days (on three occasions)
You might be interested in: